Greater than B6 with Enhanced IED
Blast Protection Package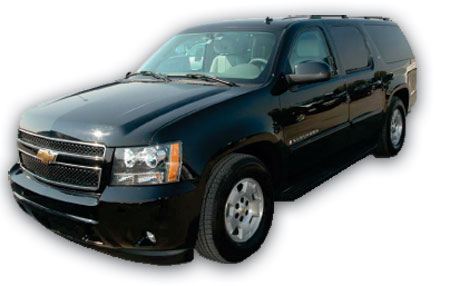 Click here for more armored vehicle photos!

We can, and do, armor every vehicle type.
Inquire on availability and or place a request for quote here
Model: 2008 Suburban ¾ Ton 4X4 6.0L
ENHANCED ARMORING SYSTEM WITH BLAST PROTECTION
All four (4) doors armored using the following materials to enhance the blast threat capabilities:
Ceramic Tiles:
2" x 2" x 1/8" thick
Ballistic Steel Plate:
3 mm thick
Urethane
Aluminum Alloy Armor:
½ inch thick
Windshield is replaced with 54 mm transparent armor (B6 41 mm)
Transparent armor for doors using 56 mm (B6 41 mm)
Oblique, Front and Rear of vehicle armored using 7 mm ballistics steel (B6 6.35 mm)
Entire roof area will be armored using 6.35 mm ballistics steel
Floor armored using 3 mm ballistics steel with ½ inch Aluminum Alloy added that acts as an absorbent for blast
All pillar posts, side panels, kick-panels, firewall, and headers, cargo area, rear wheel arches, rear cargo doors will all be armored using 7 mm ballistics steel
Overlap System around each window will be used throughout the vehicle to ensure complete protection armored using 7 mm ballistics steel
Battery and computer armored using 7 mm ballistics steel
Run-Flats installed in all tires
Rear door kept original with armored swing door directly behind original. Swing door will have transparent armor for full viewing capacity. The thickness of the transparent armor is 56mm. The door will be armored using 7 mm ballistics steel
Rear cargo side panels to have 12" X 8" transparent armor inserts to be 56 mm thick to defeat the following
Suspension upgraded to compensate for additional weight with aftermarket upgrades
PRICE INCLUDING VEHICLE AND ARMOR:
$109,000 USD
Options:
FLIR PathfindIR thermal camera  driving system $5800  wwww.flirsystems.us 
PA/Siren $1200
Strobe Lights $550
Power Windows 8 to 10 inches $1,300
Alarms $500
Refrigerator $400
DELIVERY SCHEDULE:
Delivery date is subject to production schedule at time of order.
For quantity orders, production can be organized to provide delivery rates of 2-10 vehicles per week depending on the order sizes and customer requirements
TERMS AND CONDITIONS:
Prices are Net to You F.O.B. Ontario, Canada
100% of Vehicle price and 50% of armoring price as deposit. Balance payment at shipment or Confirmed Letter Of Credit.